Punjabi musical sensation, singer Diljit Dosanjh, the first Sikh to unveil the Wax Statue at Madame Tussauds, located in the classic Regal Building at Connaught Place Delhi on Thursday.
However, on Wednesday evening Diljit Dosanjh and Madame Tussauds have posted about the re-schedule the launch of Diljit's wax statue:
Singer's-actor wax statue will be housed amongst the top-notch celebrities across the world, namely, Michael Jackson, Amitabh Bachchan, Virat Kohli, Sarukh Khan, Justin Beiber, David Beckham, Lady Gaga, Shreya Ghosal, Sonu Nigam, Kareena Kapoor Khan, Salman Khan, Katrina Kaif and others.
Diljit Dosanjh is known for his versatility, he debuted in Bollywood with Udta Panjab and after the success of his first Hindi movie, he performed other significant roles in Phillauri and Soorma. Soon, he will be seen in the comedy film 'Good News' starring Akshay Kumar and Kareena Kapoor Khan.
Dosanjh will join a host of national and international celebrities at the venue including Sachin Tendulkar, Virat Kohli, and David Beckham.
Diljit shared his excitement about the Wax Statue at Madame Tussauds with fans.
He had posted on social media: "Finally yeh din bhi aa gaya Madame Tussauds Delhi."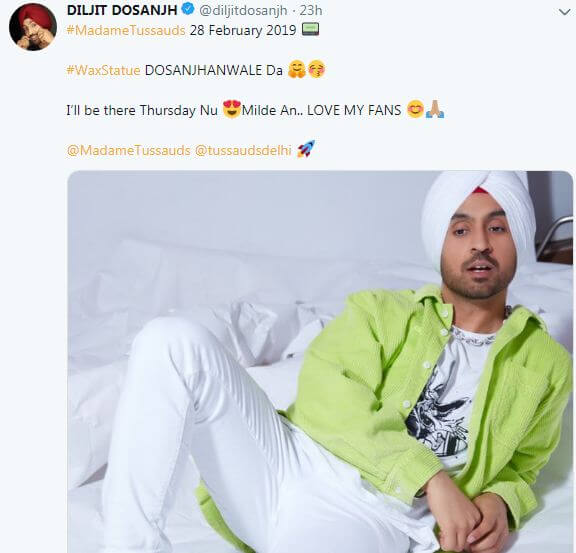 For social media engagement, ask fans to participate in a contest #DosanjhkaDiljito.
Madame Tussauds posted on Twitter: "Last Days For Entries: Take part in the #DosanjhkaDiljito contest. Record your video message for Diljit and post it here by tagging us. Lucky Winners get couple vouchers to Madame Tusaauds Delhi, world's most famous wax attraction, and other exciting prizes."
The Singer is very active on Instagram, Twitter, and Snapchat 
We wish more power and success to heartthrob Diljit Dosanjh.
Keep Reading! Keep Motivating!