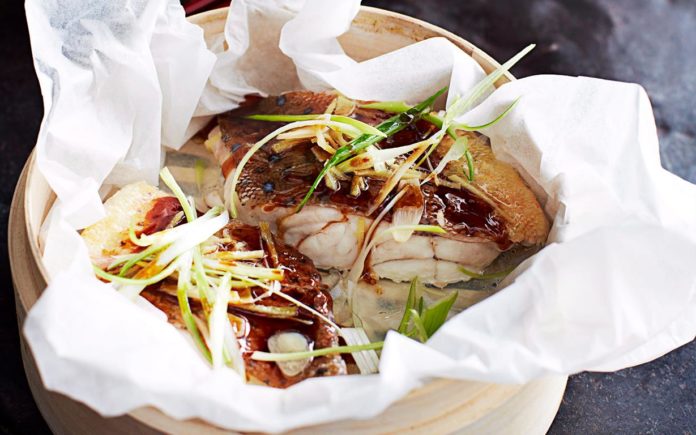 All-time special Bag baked trout with ginger soy
Here we present an easy to quick and healthiest bag baked trout with ginger soy recipe that just takes a few minutes to cook, we do understand that our folks hardly have time to cook due to their hectic schedule. So, here we start with the recipe.
Bag baked trout with ginger soy recipe
Preparation Time:  5 Mins
Cook  Time: 10mins
Total Time:  15 mins
Serves: 1
Main Ingredients:
For greasing sunflower oil
1- rainbow trout (pin bones removed and filleted )
6- thin slices of fresh ginger
1 -tbsp water
1- tbsp soy sauce
1- tbsp rice wine vinegar
For the dressing
1 – tbsp sunflower oil
2 – finely chopped spring onions
1 – tbsp soy sauce
1 – tbsp rice wine vinegar
1/2- tbsp sesame oil
1/2-tbsp grated fresh ginger
1/2 tbsp clear honey
Steps to Follow
Set the oven at  200°C /400°F/Gas mark 6  to preheat with a baking sheet in the oven.
Step 1: Cut 2 large pieces of foil and grease with sunflower oil, then lay the fish fillets on the foil and place 3 slices of ginger on each one.
Step 3: Mix the vinegar, soy sauce, and water together and spoon over the fish.
Step 4: Wrap the foil to form a parcel, using metal paper clips to help secure the parchment or scrunching the foil.
Step 5: Put on the baking sheet and bake for 10 minutes.
Step 6: In the Meantime, in a small frying pan heat the sunflower oil.
Step 7: Add the ginger and onions and when they start to sizzle, then take the frying pan off the heat and set aside.
Step 8: Unwrap the fish foil and remove the ginger – transfer the fish to the plates, palette knife or using a fish slice and sliding in between the fish and to remove the skin from the cooked fish.
Step 9: Pour any juices left in the foil into the frying pan after that adding vinegar, sesame oil, and honey the soy sauce.
Step 10: Stir together after that spoon over the fish and serve immediately.
Now, make this delicious recipe and have a good time with a tempting meal enrich with protein and nutrition. Stay healthy, stay tuned !!